The mRNA technology transfer programme
is a global initiative that aims to improve health and health security by establishing sustainable, locally owned mRNA manufacturing capabilities in and for low- and middle-income countries (LMICs).The programme is based around a technology transfer "hub" 
Afrigen
, which is located in South Africa. They will provide the technology development, training and technology transfer, and
15-20 "spokes"
 in LMICs across the world, will receive training and technology from the hub and then produce and sell products commercially. Its core concept is 
empowerment
.
Initially the programme will focus on mRNA vaccines against COVID-19. However, the programme is designed to encourage the development of other mRNA vaccines and therapeutics against important diseases that threaten LMICs, thereby ensuring the capacity built by the project is sustained and available to combat the next pandemic.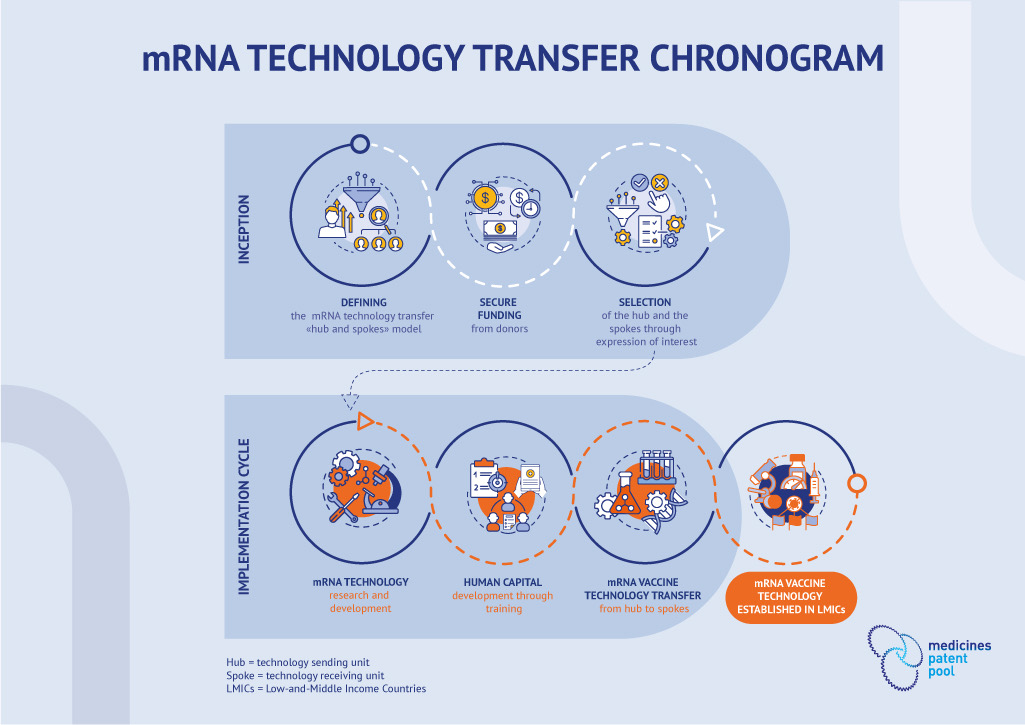 Latest news
On 8 December 2022, Dr Jerome Kim held a lecture at Afrigen in Cape Town in the presence of the mRNA technology transfer programme vaccine partners. Jerome H. Kim, M.D., is an international expert on the development and evaluation of vaccines and is the Director General of the International Vaccines Institute (IVI), whose mission is to discover, develop and deliver safe, effective, and affordable vaccines for Global Health.
The mRNA technology transfer hub is on track to achieve its scientific ambition, so how can the global health community identify and tackle critical issues that will ensure sustainability?
Announced on 21 June 2021, the objective of the technology transfer hub is to build capacity in low- and middle-income countries to produce mRNA vaccines through a centre of excellence and training (the mRNA vaccine technology hub). The hub is located at Afrigen, Cape Town, South Africa, and will work with a network of technology recipients (spokes) in low- and middle-income countries.
This video filmed in November 2021 provides an overview on the Hub's establishment. The partners include Afrigen, Biovac, SAMRC, Africa CDC, the Department of Science and Innovation, South Africa, WHO and MPP.
On International Day of Women and Girls in Science, we celebrate women's contribution to research and innovation. Spotlight on South African researchers making mRNA vaccines a reality in Africa, working for the mRNA Vaccine Technology Transfer Hub.
Many South African's were hit hard by COVID-19 including Nobuntu Mfengwana who lost her sister. Civil society organisations such as the Desmond Tutu HIV Center and Kheth'Impilo working with communities are keen to make use of lessons learned from HIV.
The mRNA vaccine Technology Transfer Hub was established in response of the flagrant inequities in access to COVID-19 vaccines in low- and middle-income countries, especially in Africa. Charles Gore, Executive Director of the Medicines Patent Pool tells us more.