The Medicines Patent Pool (MPP) works to improve access to treatments for HIV, hepatitis C, tuberculosis and other patented essential medicines with high medical value, in low- and middle-income countries. Priority is given to small molecules, and those already included or with strong potential for future inclusion, in the World Health Organization (WHO) Model List of Essential Medicines (EML).
By expanding access to essential medicines, MPP is committed to supporting Universal Health Coverage.
Since our creation in 2010, we have published a list of priority HIV treatments for our licensing programme. In 2017, we expanded our evaluation to include important treatments for hepatitis C, and in 2018 we included tuberculosis treatments in our prioritisation work. Our method for prioritising HIV, hepatitis C and tuberculosis treatments, developed with the support of a broad range of experts, is based on four criteria:
The medicine's clinical importance
The extent to which the treatment is patented in developing countries
Existing licensing agreements in place
The potential for market uptake
Prioritised medicines may include those already in the market as well as investigational candidates. The status of negotiations on priority products will be updated on a quarterly basis in line with MPP's Transparency Policy.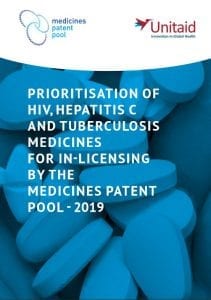 Prioritisation of HIV, hepatitis C and tuberculosis medicines for in-licensing by the Medicines Patent Pool – 2019
The 2019 Prioritisation Report includes one HIV and one TB compound that could improve standard of care for people living in developing countries. It also includes three HIV and three TB compounds in watchlists.
Current target products and formulations:
HIV prioritisation
Cabotegravir long-acting injectable
TB prioritisation
In addition, the following products have been included in MPP watchlists:
HIV watchlist
Islatravir (MK-8591, EFdA)
GSK2838232 (GSK'232)
Lenacapavir (GS-6207, GS-CA2)
TB watchlist
Telacebec (Q203)
Delpazolid (LCB01-0371)
OPC-167832
Finally, the following three products have been identified as ARVs to be further monitored:
Other HIV products to monitor
Doravirine
Fostemsavir
Rilpivirine long-acting injectable
MPP signed a licensing agreement with Pfizer in October 2019 to facilitate the clinical development of sutezolid, an investigational medicine for the treatment of tuberculosis (TB). Read more
Access the 2019 Prioritisation Report
Access previous reports (archives)
Comments are welcome and encouraged. Please send an email to policy@medicinespatentpool.org, with subject line "Comments on the 2019 Prioritisation Report".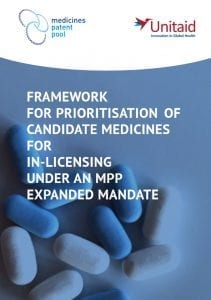 In 2019, MPP published a prioritisation framework outlining a precise methodology for assessing candidate medicines that could play a major role in MPP's expanded mandate into new disease therapies beyond HIV, hepatitis C and tuberculosis.
Through evaluation with a set of criteria, the framework identified, as priorities for in-licensing by MPP, candidate medicines used in the treatment of cancer, diabetes, heart and other diseases.
The criteria sought to evaluate the public health and clinical relevance; access challenges; and MPP value add of expanding access to specific patented essential medicines, through detailed answers to the following questions:
How important is the medicine for low- and middle-income countries?
Are there access challenges in low- and middle-income countries?
Are MPP licences likely to lead to public health impact?