Exploring the Expansion of the Medicines Patent Pool's Mandate to Patented Essential Medicines: A Feasibility Study of the Public Health Needs and Potential Impact
24 May 2018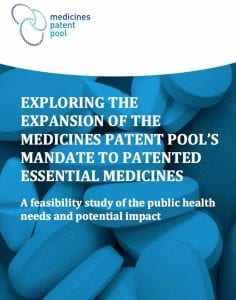 Click here to read the full study
Click here to read a Q&A on the study
The Medicines Patent Pool (MPP) conducted a feasibility study to assess the public health need for – and the feasibility and potential public health impact of –  expanding its mandate from HIV, tuberculosis and hepatitis C to patented essential medicines in other therapeutic areas.
The Swiss Agency for Development and Cooperation funded the assessment after several stakeholders, including the World Health Organization (WHO) and the Lancet Commission on Essential Medicines Policies, recommended expansion of MPP's patent pooling model to all patented essential medicines, such as those included on the WHO Model List of Essential Medicines.
Expansion of MPP's mandate was also an integral part of recommendations on access to medicines and intellectual property discussed this year at the 71st World Health Assembly (documents A71/12 and A71/13).
Click below to read individual chapters: