Latin American manufacturers complete first training at mRNA technology transfer Hub in South Africa
24 March 2022
Two vaccine manufacturers from Argentina and Brazil have become the first companies to receive technology transfer training at Afrigen in South Africa, with the goal of boosting the production of mRNA vaccines in low- and middle-income countries.
As part of the mRNA Technology Transfer Hub Programme, a group of scientists from Argentina's Sinergium Biotech and Brazil's Bio-Manguinhos/Fiocruz travelled earlier this month to the Hub at Afrigen, Cape Town. In a three-day course, they learned about Afrigen's lab-scale mRNA manufacturing process, including formulation of lipid nanoparticles and data analytics, as well as the production and control of vaccines using mRNA technology.
A fruitful training

at many levels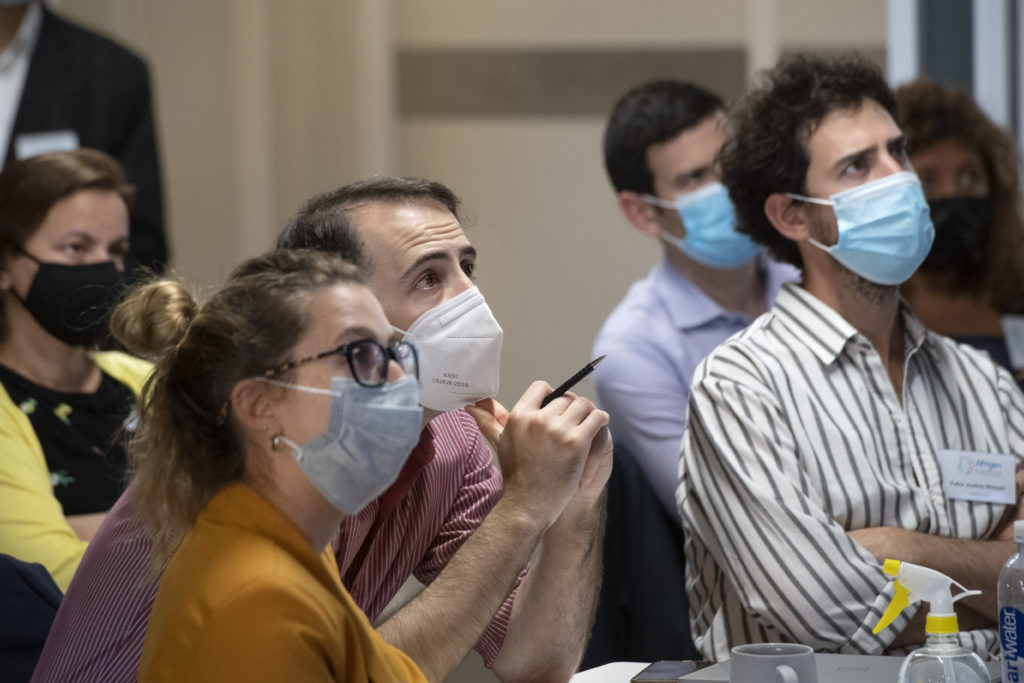 Sinergium and Bio-Manguinhos/Fiocruz, which have extensive experience in the production and development of vaccines and biotechnological medicines, said the training was an excellent opportunity to do networking, discuss technical problems and work hand in hand with Afrigen scientists in the lab. Their goal now is to take what they learned back home and share the benefits of this new technology around the world.

"The benefit of this programme is enormous," said Sotiris Missailidis, research and development director at Bio-Manguinhos/Fiocruz, a Rio de Janeiro public health institution that manufactures vaccines for yellow fever and meningococcal disease for Brazil and other Latin American countries. "This programme enables countries to develop and produce mRNA vaccines in their own countries and cover the supply of vaccines where they are needed the most. A lot of big pharmaceuticals refuse to do a tech transfer, specifically of this technology.  We saw with COVID-19 that not all countries have equal access to vaccines," Missailidis said.
Patricia Neves, mRNA vaccine scientist lead at Bio-Manguinhos/Fiocruz, said it was very important for countries in the Global South to produce their own vaccines so that they can achieve sustainability and strengthen regional health security.

"We are very proud to be here and to be part of this initiative. I think it is very important for countries in the South to prove that they have the capacity to bring this technology. We cannot accept the fact that some people are not getting vaccinated, as is happening right now," she said.
Fernando Lobos, a director at Sinergium, praised the collaboration between the World Health Organization (WHO), the Medicines Patent Pool, governments, and other partners to establish the Hub.

"WHO and MPP are doing a great job of putting all these people together," Lobos said. "We need to make sure that no one is left behind in this public health effort."

"The mRNA technology transferred from the Hub will allow companies to manufacture vaccines not only against COVID-19, but against other diseases, including flu and respiratory viruses," said German Sanchez Alberti, a project manager at Sinergium. Sinergium, a private sector biopharmaceutical company outside Buenos Aires, manufactures vaccines for Argentina and the region and also supplies vaccines to the Pan American Health Organization, WHO´s regional office for the Americas. "There is a huge field to explore in mRNA technology," Sanchez said.
The mRNA Tech Transfer Hub Programme

– a learning platform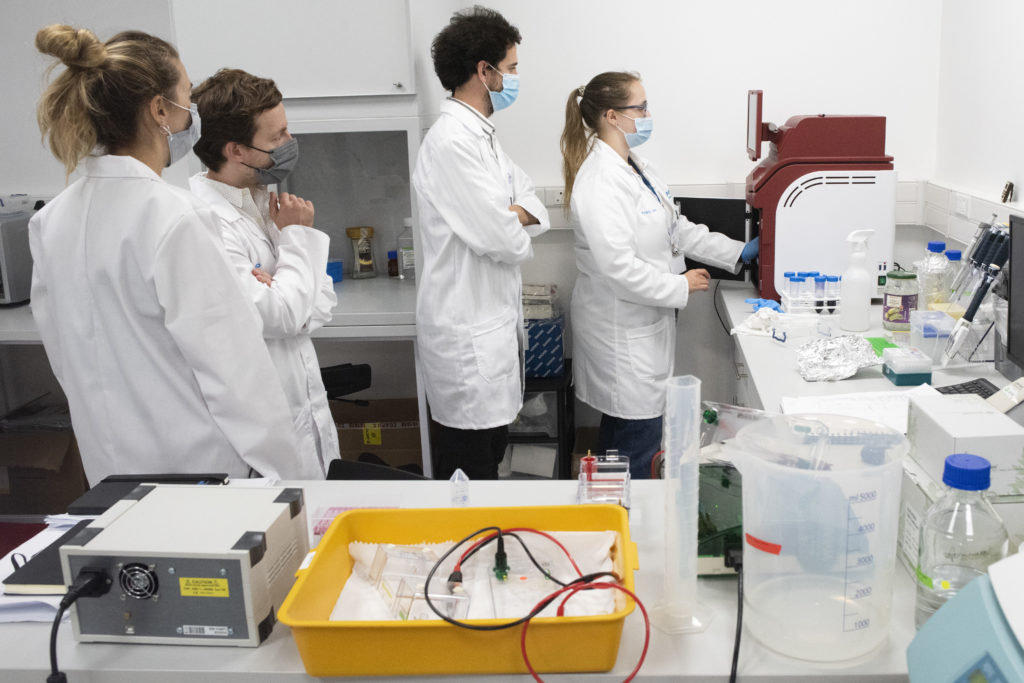 Supported by WHO, the Medicines Patent Pool and the ACT-Accelerator/COVAX, the Hub was established in July 2021 in response to the flagrant inequities in access to COVID-19 vaccines.
The idea behind the mRNA technology transfer hub programme is that dozens of companies or "spokes" from low- and middle-income countries around the world will learn how to produce their own mRNA vaccine to fight current and future pandemics.
WHO and partners are providing training and financial support to build the necessary human capital for production know-how, quality control and product regulation, and will assist where needed with the necessary licenses.
Donning white laboratory coats and masks, the South American trainees spent time in Afrigen´s high-tech "clean" rooms, carefully listening to explanations, asking questions and taking notes.
Afrigen's partner, the Antiviral Gene Therapy Unit, based at Wits University, complemented the Afrigen technical team involved in the training. The South African Medical Research Council presented the local R&D programme, a critical component of the long-term sustainability of the Hub and its spokes.
Santiago Rodriguez, a process optimisation leader at the pharmaceutical company mAbxience, which is partnering with Sinergium, said the reception and the training at the Hub had been spectacular.

"We did laboratory-scale production of mRNA and the analytical methods related to that," Rodriguez said. "This project gave us very important know-how on the technical side which will allow us to make it in our facilities in Argentina."
Change of paradigm
Dr Kristie Bloom, a research scientist at Wits, said talking to other scientists from the spokes about their experience of making mRNA technology had been a mutually enriching experience.

"This sort of collaboration is going to be very meaningful in the future," Dr Bloom said.
Dr Caryn Fenner, the mRNA executive director at Afrigen, said the introduction to the mRNA technology is the first step of a process aimed at building a worldwide network in low- and middle-income countries between the Hub at Afrigen and the spokes.

She said the role of Afrigen is to act as a channel that takes expertise and information from scientific experts around the globe to the spokes "to see where the gaps are and where we can actually help each other." "It is a partnership rather than we are Afrigen, and we are giving you the information. "
Other companies that have been selected as spokes include Biovac from South Africa, African manufacturers from Egypt, Kenya, Nigeria, Senegal and Tunisia, and manufacturers from Bangladesh, Indonesia, Pakistan, Serbia and Vietnam. The training for those companies will start later in the year.
Missailidis, from Bio-Manguinhos/Fiocruz, said companies in low- and middle-income countries are aware of the challenges ahead, including producing mRNA vaccines on a large scale and the supply of raw materials.
What is clear, he said, is that the Hub marks a change of paradigm – one in which the Global South receives technology transfer to develop and produce vaccines and health technology.
"There is more to be done, but we are hopeful this effort will bear a lot of fruit."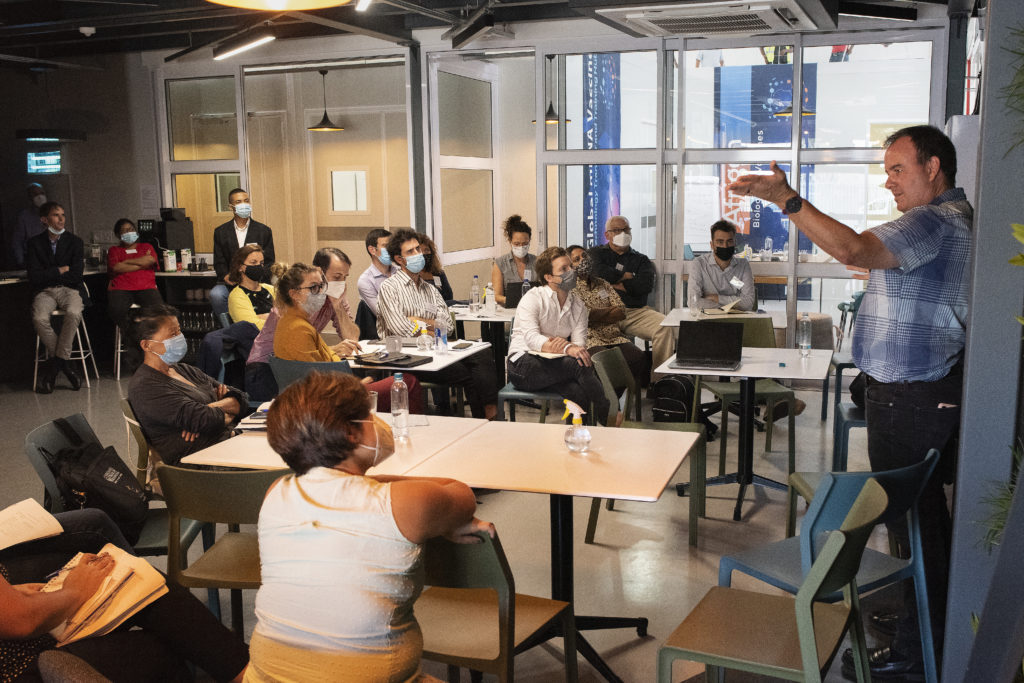 ---
Photo

gallery
<
>