Bringing dolutegravir 10 mg to children living with HIV in Côte d'Ivoire
25 January 2023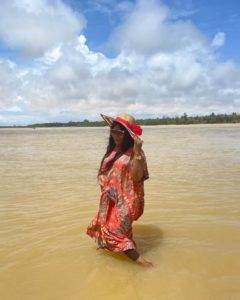 Nadia Adingra is the director at ICW – International Community Women living with HIV, Côte d'Ivoire. She is a founding member of COF+CI (Coalition des Organisations de Femmes vivant avec le VIH Côte d'Ivoire) and represents AfroCAB. Nadia found out about her HIV positive status when  pregnant with her daughter who is now 17 years old.
Approximately 380,000 people are currently living with HIV in Côte d'Ivoire, including 18,000 children (0-14 years), of whom just  54% are on antiretroviral treatment[1].
– Nadia Adingra, Director at ICW – International Community Women living with HIV, Côte d'Ivoire.
The introduction of dolutegravir 10 mg
For many years, children living with HIV in low- and middle-income countries such as Côte d'Ivoire have only had access to sub-optimal antiretroviral drugs, that are difficult to swallow because of their bad taste or because of their unsuitable formulation (large, hard-to-swallow tablets).
In 2021, the World Health Organization (WHO) published their Consolidated guidelines on HIV prevention, testing, treatment, service delivery and monitoring: recommendations for a public health approach. These guidelines recommend dolutegravir (DTG)-based regimens as the preferred first- and second-line treatment option in children for age and weight groups with approved DTG dosing, from four weeks of age and three kilogramms. A licensing agreement between MPP and ViiV Healthcare, the originator company, was signed in 2014, which allows generic manufacturers to produce low-cost versions of DTG for paediatric use in 123 countries.
Paediatric DTG, a 10 milligram scored dispersible tablet, offers many advantages: it is more effective, better tolerated, easier to administer thanks to its possible dissolution into a liquid, and better accepted by children due to its strawberry taste.
In November 2020, the US Food and Drug Administration (FDA) gave their green light for the use of DTG 10 mg in children. In December 2020, Unitaid announced that the price of this new treatment would be USD 36 per year per child (compared to approximately USD 400 for the previous available treatement), following an agreement between the Clinton Health Access Initiative (CHAI) and generic manufacturers, MPP sublicensees Viatris and Macleods. As part of this work, CHAI, with funding from Unitaid and in partnership with ViiV Healthcare, implemented a novel development incentive program and innovative regulatory strategy to accelerate the development and regulatory approval of a generic pediatric DTG product, which included technical support to these generic manufacturers to support the development of this unique formulation for children that did not exist.
A partnership approach for access to paediatric dolutegravir 10 mg in Côte d'Ivoire
In 2020, Unitaid and CHAI approached the Elizabeth Glaser Pediatric AIDS Foundation (EGPAF) to partner under the CHAI-Unitaid Optimal project, which includes a focus on accelerating access to optimal pediatric treatment regimens. This collaboration would build on EGPAF's  pediatric work previously funded by Unitaid under the SPAAN project (Securing Pediatric ARV Access Now). Côte d'Ivoire was a focal country under the SPAAN project and joined as one of the focal countries of the Optimal project in 2020. A key objective of the project was to support the uptake and roll-out of optimal antiretroviral products for children and to generate demand among the populations that need them most by working in partnership with AfroCAB through the Optimal Community Advisory Board. The project was supported by the government of Côte d'Ivoire.
Nadia's role has been to explain the benefits of DTG 10 mg to mothers and the government:
"We had to show that the product could make a real difference to the lives of children whose viral load was not being suppressed. At that time, only lopinavir/ritonavir in the form of granules or syrup were available for treating HIV in children. It was an effective treatment, but difficult to administer to young children because of its bitter taste. Children could not be looked after by a guardian because the product had to be measured precisely. The arrival of DTG 10 mg has made it easier to administer as it is a scored tablet that is dissolved in water."
There are multiple intervention strategies in the Optimal project, including involvement of communities in the implementation of the project through information meetings at community level; training of "mentor mothers" on DTG 10 mg; developing materials in various didactic ways that community members could use and targeted media campaigns (especially radio and videos – example here) to raise awareness on the use of DTG 10 mg; advocacy with health and political authorities; and finaly the evaluation of services offered through discussions with focus groups.
"We organised focus groups across all of Côte d'Ivoire. The important feedback that came out of these meetings were that mothers are relieved because the medicine is easier to take for their infants: it is taken once a day and it allows for some flexiblilty as to the best time to take it. The tablet is scored so it can be broken in half and dissolved into water. It tastes like strawberry cream. The great thing about it is that children now ask for their medicine."
DTG 10 mg access and results in Côte d'Ivoire
Côte d'Ivoire was one of the first 10 countries, along with Benin, the Democratic Republic of Congo, Haiti, Kenya, Malawi, Nigeria, Uganda, Zambia and Zimbabwe, to order and receive DTG 10 mg boxes (boxes of 90 tablets each) from in early 2021. Initially only newly diagnosed children between 3 and 20 kg were put on DTG 10 mg, due to limited stocks of the product. Then, from December 2021, the government transferred all children between 3 and 20 kg to DTG 10 mg. A total of more than 45 000 boxes of 90 tablets had been received by the end of December 2021, followed by more than 30 000 by August 2022.
"Thanks to this new drug,the viral suppression in children on DTG 10 mg in Côte d'Ivoire is now at 84%, where it was just 25% before with the previous treatment (based on lopinavir/ritonavir, LPV/r)."
Some key points:
DTG 10mg was added to the Cote d'Ivoire ARV procurement plan in December 2020
DTG 10 mg has been included in Côte d'Ivoire's national guidelines since June 2021
An estimated 2,952 (83%) of 3,566 eligible children less than 20kg are benefitting from DTG 10 mg in the framework of the Optimal project in Côte d'Ivoire (source EGPAF, December 2022).
There are now differentiated care models for children under 5 years of age
Stockouts are very rare or non-existent.
"Let's not slacken our efforts!"
Access to DTG 10mg now needs to be extended to the whole of Côte d'Ivoire and the African continent, and the latest data from sublicensed generic manufacturers of MPP (as of September 2022) shows that 45 of the continent's 54 countries have already begun the process of transitionning to DTG 10mg.
"HIV infections are still very real in our societies, but we don't talk about it as much as we used to. We must not stop raising awareness, especially among the younger generations, about the ways HIV is transmitted and offer them a range of choices to protect themselves, tests and adapted treatments."
In addition to supporting the transition to DTG 10mg, AfroCAB continues to advocate for the availability of long-acting cabotegravir for PrEP (pre-exposure prophylaxis): MPP recently signed a licensing agreement with ViiV Healthcare for this product, and is working within an international consortium to accelerate access.
Approaches at the international level
To ensure a safe and effective transition to paediatric DTG for all children, the GAP-f (Global Accelerator for Paediatric Formulations) Paediatric DTG Task Team has developed a circular for national HIV programmes, implementing partners and service providers. These considerations are available online here.
GAP-f is a WHO network dedicated to closing the paediatric treatment gap. GAP-f offers a viable mechanism to develop better tolerated, safer, more effective and sustainable paediatric formulations and make them available to children at an accelerated rate across different diseases, based on the vast experience from paediatric HIV as discussed in this article.
[1]2021 data from UNAIDS > https://www.unaids.org/en/regionscountries/countries/ctedivoire