Unleashing the power of pharmacy of the world through voluntary licensing
21 October 2020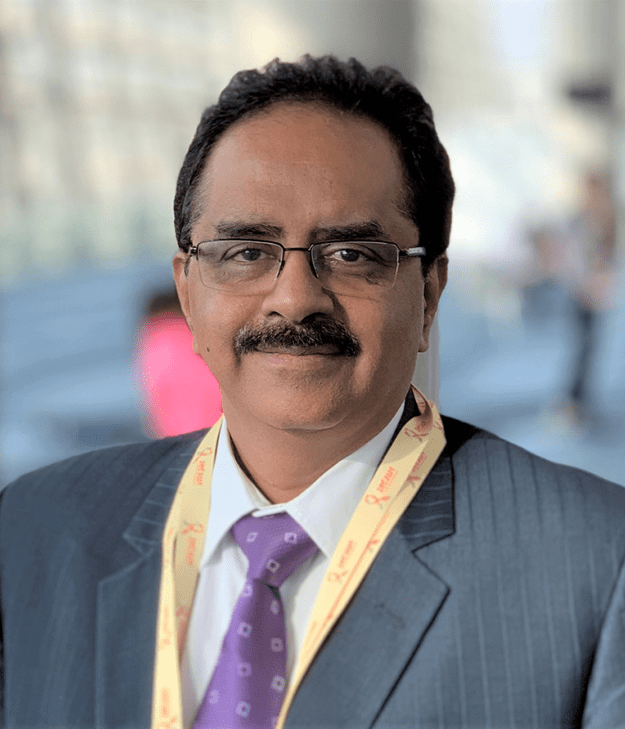 MPP voluntary licensing model
Umesh is a business management professional, with nearly 30 years of experience across different healthcare sectors such as pharma, diagnostics, medical devices and diverse roles including sales, marketing, product management, strategy, international business, governmental affairs and general management. Over the last 12 years, Umesh has been working at Aurobindo, initially in the antiretroviral portfolio and then more recently managing the antivirals. Umesh's responsibility includes from licensing to product development to commercialisation, working closely with cross functional teams from R&D, regulatory affairs, supply chain and manufacturing. He is also responsible for relations with external stakeholders such as MPP, WHO, CHAI, the Global Fund, PEPFAR, USAID, UN organisations, National AIDS Control Organisations, national Ministries of Health & country partners.
– By Umesh K, Senior Vice President, Global Anti-Virals, Aurobindo
India is a pharmacy to the world, housing hundreds of generic pharmaceutical companies. And Hyderabad-based Aurobindo, founded in 1986, is one of the two top generics with a consolidated revenue of US$3.3 billion in the last financial year. It is also one of the few companies who meet most – precisely 70% – of their active pharmaceutical ingredient (API) requirements in house.
Partnerships with generics are key to the implementation of the Medicines Patent Pool's (MPP) mission of making medicines affordable and accessible to low- and middle-income countries. The voluntary licensing mechanism and the partnership is a highly symbiotic one – with MPP achieving a sustainable supply of affordable high-quality medicines for those in need and generic companies getting access to products and markets that would otherwise be impossible without licences. It is a win-win model and it is a fundamentally sustainable model. So licensing is here to stay, and especially for programmes requiring massive scale-up, like HIV, it is a critical component of serving developing country markets. 
Over the years, Aurobindo has worked with several originators directly as well as via MPP, but what we especially like in working with MPP is the end-to-end support we get. It can be summed up in 5 Cs – Catalysis with innovators; Communication through the licensing process; Consistency of licences; Consultation on market intelligence; and finally, Coordination with various stakeholders.
Catalysis of tech transfer from innovators. MPP liaises between the originators and the different sublicensees to ensure a timely and smooth transfer of the technical know-how. This is due to MPP's experience across a wide number of originators and generics that it can quickly channel in the relevant information. When generics directly negotiate with the originators, the process can be much more complicated and time-consuming.
Communication and back and forth support through the licensing pipeline – regulatory pathways, drug development, R&D, drugs filing – there are so many areas where open and accurate information is key and there is a lot of communication flow between MPP and generic companies.
Consistency: With MPP's licences, one can be sure of consistency in terms and conditions. However, with individual bilateral licences between generics and originators, there are often variations and anomalies in each agreement – in geography, in clauses, etc. MPP's transparent approach levels the playing field for the different generics. The consistency of MPP's approach stems from its unbiased mission as MPP keeps public health impact at the heart of its licences.
Consultation: another unique aspect of working with MPP is the confidential and latest market-related inputs we get especially in areas of new product development, capacity planning, country-wise regulatory mapping and also benchmarking ourselves on our progress across the industry. Moreover, MPP's updates on the scientific side in terms of latest clinical trial results, upcoming molecules in the pipeline, etc. open the minds of generic players in terms of what's lined up in the field.
Coordination: as a UN-backed unbiased partner, we value MPP's relationship with various global health stakeholders as well as the Drugs Controller General of India (DCGI) for accelerating in-country product registrations, thus ensuring faster access to these much-needed drugs.
All these benefits and the transparency of MPP's work has cemented our relationship over the years. The result is for the world to see. Overall the MPP-generics partnership has supplied nearly 15 billion doses of treatment over the last decade[1]. Aurobindo alone, in the last five years, has doubled its reach in HIV to over five million people.
With eyes on the road ahead, we hope to partner with MPP in new areas such as non-communicable diseases, long-acting technologies like patches and implants for HIV treatments, and biosimilars, the treatment of tomorrow. It is a logical extension. We have shown to the world that the MPP voluntary licensing model is robust and it works. In HIV, the model has saved millions of lives. So, I think it can be, and must be, extrapolated to other areas. Aurobindo, with its 20,000 employees and its global footprint – 29 world-class manufacturing facilities, offices in 33 countries, a distribution network in over 155 countries and state-of-the-art R&D setup – is a perfect ally. Moreover, with our existing portfolio in sectors such as oncology, antibiotics, long-acting technologies, cardiovascular products, anti-diabetics and lately vaccines, we continue to be a trusted partner. These new avenues come with their own share of challenges and thus the existing MPP model might need to be adapted and options explored with the possibility of bespoke agreements – this is yet another strength of MPP's licences.
At Aurobindo, we have done our best to navigate the challenges of COVID-19 and the global economic restrictions that have been imposed; still, a lot of disruptions have surfaced including delays in transportation that blocked the movement of active ingredients and finished products, manpower shortages, shipments being stuck at international ports. Despite these challenges, we pushed harder than ever to maintain output, and global agencies including the Global Fund, USAID, MPP etc. have supported us throughout in our efforts during these challenging times. Today we are back on track on nearly all our production lines.
The pandemic has taught us lots of lessons so far. But if there is one to single out, it is that we can only come out of this crisis if we work together. Aurobindo welcomes the expansion of MPP's mandate into COVID-19 and stands ready to contribute to the fight, as new treatments become available and as licensing paves way for broader access. Because as has been truly said these days, no one is safe until everyone is safe.
---
[1] See MPP's Impact
MPP voluntary licensing model