The road to equitable access – an end of year message from Charles Gore
15 December 2022
At the end of 2022, the fundamental healthcare needs of billions of people, adults and children, still remain unmet. Half of the population of low- and middle-income countries (LMICs) cannot access the best new drugs, either because they are not available at all or because, if they are available, they are priced too high to be affordable. Inevitably this means unnecessary morbidity and mortality or catastrophic and crippling cost.
Our goal at the Medicines Patent Pool is to play our part in ending this inequity. To do this we have grown organically over the last few years, 2022 being no exception, as we have added to our work in small molecules in infectious diseases by also now working in non-communicable diseases, vaccines and other health technologies. We have now built on this to produce a new strategy for 2023-2025.
MPP strategy 2023-2025 – to be launched 30 January 2023
This is relatively short period for a strategy, which reflects the need to consolidate our recent expansion. But it is also something of a transitionary strategy as we see how best the organisation can serve public health in this rapidly changing environment. The new strategy, to be launched on 30 January 2023, is based around five goals, which either consolidate or expand upon our existing work but in a more systematic way:
Expand access to innovative medicines for infectious diseases
Establish voluntary licensing as an impactful impact mechanism for diseases and conditions
Facilitate development and access to novel medical technologies
Accelerate equitable access to counter-measures for pandemics and other international health emergencies
Support diversified and sustainable manufacturing capacity
A licence in HIV PrEP
In 2022, in addition to our work to ensure ever-increasing uptake of our licensed drugs for HIV and hepatitis C, in July we signed a licence with ViiV Healthcare for long-acting cabotegravir to be used as pre-exposure prophylaxis (PrEP) to prevent HIV infections. Each year, there are approximately 1.5 million new cases of HIV worldwide, most of which occur in resource-limited countries, with women and adolescent girls disproportionately impacted. While oral PrEP options are available in many countries, challenges with adherence and stigma have limited their impact in some populations. Access to an effective long-acting HIV prevention option could significantly contribute towards the goal of ending the HIV epidemic.
A licence in NCDs
Outside of infectious diseases, where there are often many other barriers to access, we joined the Access To Oncology Medicines (ATOM) consortium, which was formally launched during the World Health Assembly this year. Led by the Union for International Cancer Control, its broad membership is able to address challenges such as lack of diagnostics, lack of training for medical practitioners, poor infrastructure and government inertia. As a result, Novartis felt that a voluntary licence could have a real impact in countries where and gave us a licence for nilotinib, a drug for chronic myeloid leukaemia that is on WHO's Essential Medicines List for both adults and children.
A licence in long-acting malaria prevention
Our work in novel technologies has this year been concentrated in the long-acting technology and mRNA vaccine spaces. In September we signed a licence with French company MedinCell for their novel long-acting technology. This technology will be used for a three-month injectable formulation of ivermectin to reduce transmission of malaria during the malaria season. Malaria continues to be a major problem with more than 600,000 deaths in 2020, of which 95% were in WHO's Africa region (essentially sub-Saharan Africa and 80% of those in children under 5). In December the Lancet Global Health published our paper on expanding access to biotherapeutics in LMICs through public health non-exclusive voluntary intellectual property licensing. The paper explores considerations and recommendations to address requirements and seizing the opportunity is a great starting point that we eagerly await to explore.
We have continued to co-lead with WHO the mRNA Vaccine Technology Transfer Programme, supporting Afrigen in South Africa to develop and then transfer a mRNA vaccine platform. We now have recipients agreed in 15 countries – what we call "spokes" in this hub-and-spoke model – with a handful of others in discussion. Our part in this Programme is now somewhat bigger than originally envisioned. In addition to managing agreements, and in time future licences that stem from this, we are also leading on resource mobilisation, including organising regular funders meetings, and communications, and regular meetings with civil society. In order to strengthen our support for Afrigen in its current development work and in the future to transfer the developed technology, we have since January recruited a new technology transfer team within MPP. In addition to supporting the Programme, they will also be able to support technology transfer when we have licences for more complex drugs, including biologics.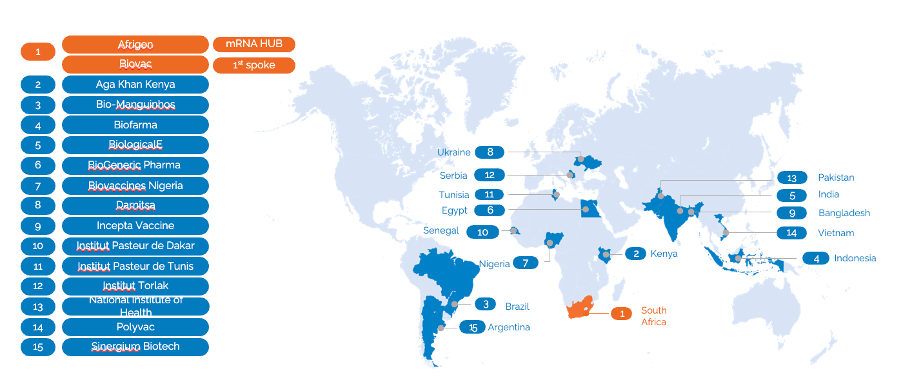 15 recipients selected to receive technology transfer from the hub
Licences in technologies for COVID-19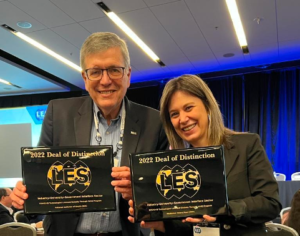 As part of our work in pandemic preparedness and response, in May, MPP signed two licences under the auspices of WHO's COVID-19 Technology Access Pool with the US National Institutes of Health for 11 technologies in the fields of t
herapeutics, diagnostics and vaccines. In October these agreements won the Licensing Executives Society's Deal of Distinction award in the Industry-University-Government Interface Sector.
Steven Ferguson, Special Advisor at NIH Office of Technology Transfer and Sandra Nobre, Head of Business Development at MPP collected the award in San Francisco in October 2022. (pictured to the left)
In October we signed a licence with Shionogi for their new COVID-19 antiviral. This is the first licence agreement we have signed with a Japanese company. In our efforts to shorten the gap between the availability of a product in high-income countries and, through our licence in LMICs, we signed the licence even before the drug had received regulatory approval, which it now has.
Growing local production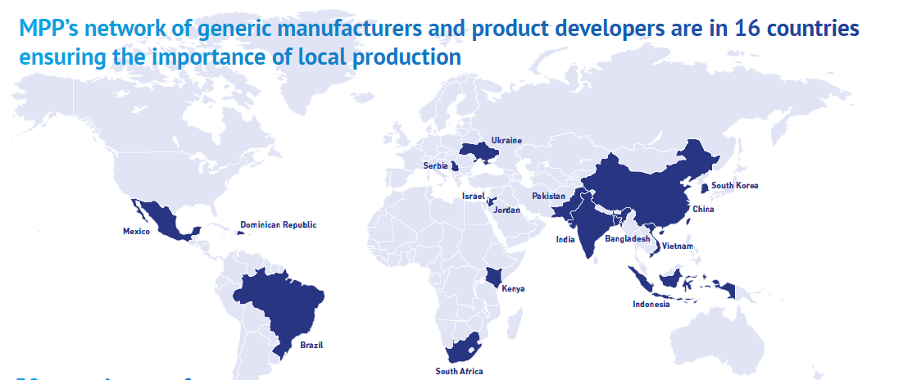 One of the key lessons from COVID-19 has been the need to improve equitable access through more geographically diversified, sustainable manufacturing capacity. We therefore strongly encouraged manufacturers from across LMICs to apply for licences for MSD's molnupiravir and Pfizer's nirmatrelvir and were able to grant 27 licences for the former and 35 for the latter. This means that, whereas before the pandemic, our sub licensees were concentrated in only six countries in total, predominantly India and China, we now have licences with manufacturers in 16 LMICs.
I would like to thank you all
As you can see from the above, 2022 has been a busy and successful year but we are only able to do what we do thanks to the generosity of our funders – Unitaid and the governments of Germany, France, Japan and Switzerland.
I would also like to take this opportunity to thank the MPP staff in Geneva and Mumbai, who have really gone the extra mile this year.  I also thank all the members of our Governance Board, our Expert Advisory Group, our Scientific Advisory Panel and our mRNA Scientific Advisory Committee, all of whom have generously given their time for free. All of you are part of our success.
We are making progress on the road to equitable access and we know that we still have a long way to go.