More than 100 low- and middle-income countries have now received the WHO-recommended treatment for HIV thanks to access-oriented voluntary licensing agreements
1 December 2022
11 generic manufacturing partners, licensees of the Medicines Patent Pool, have supplied more than 726 million packs of TLD[1], the fixed-dose combination of tenofovir disoproxil fumarate, lamivudine and dolutegravir, becoming the most widely used HIV regimen in the world.
Geneva – With recent supplies reported in four new countries – namely Barbados, Belarus, Micronesia, and Tunisia – 103 low-, lower-middle- and upper-middle-income countries (LMICs) have now received TLD (tenofovir disoproxil fumarate/lamivudine/dolutegravir), the WHO-recommended first-line regimen for people living with HIV.
The public health-oriented voluntary licensing agreements signed between the Medicines Patent Pool (MPP) and ViiV Healthcare in 2014 and 2020, have allowed generic manufacturers to produce and sell affordable single and combination versions of dolutegravir (DTG) for adults and children in LMICs, including TLD. The fixed-dose combination of TLD was developed by MPP's generic manufacturing partners in a single dosage form and first approved in August 2017.  By 2021 – only four years later – TLD was already reaching almost 20 million people. It is today by far the most widely used HIV treatment regimen in the world, with over 80% of people on first line antiretroviral treatment in LMICs taking it on a daily basis.
As of September 2022, 11 sublicensees – namely Aurobindo, Celltrion, Cipla, Emcure, Hetero, Laurus, Lupin, Macleods, Viatris, Sun Pharma, and Strides – have supplied more than 726 million packs of TLD in 103 countries. The Global Fund price for TLD ranges from USD 47 to USD 54 per patient per year depending on pack size.
Countries supplied with TLD by MPP's generic manufacturing partners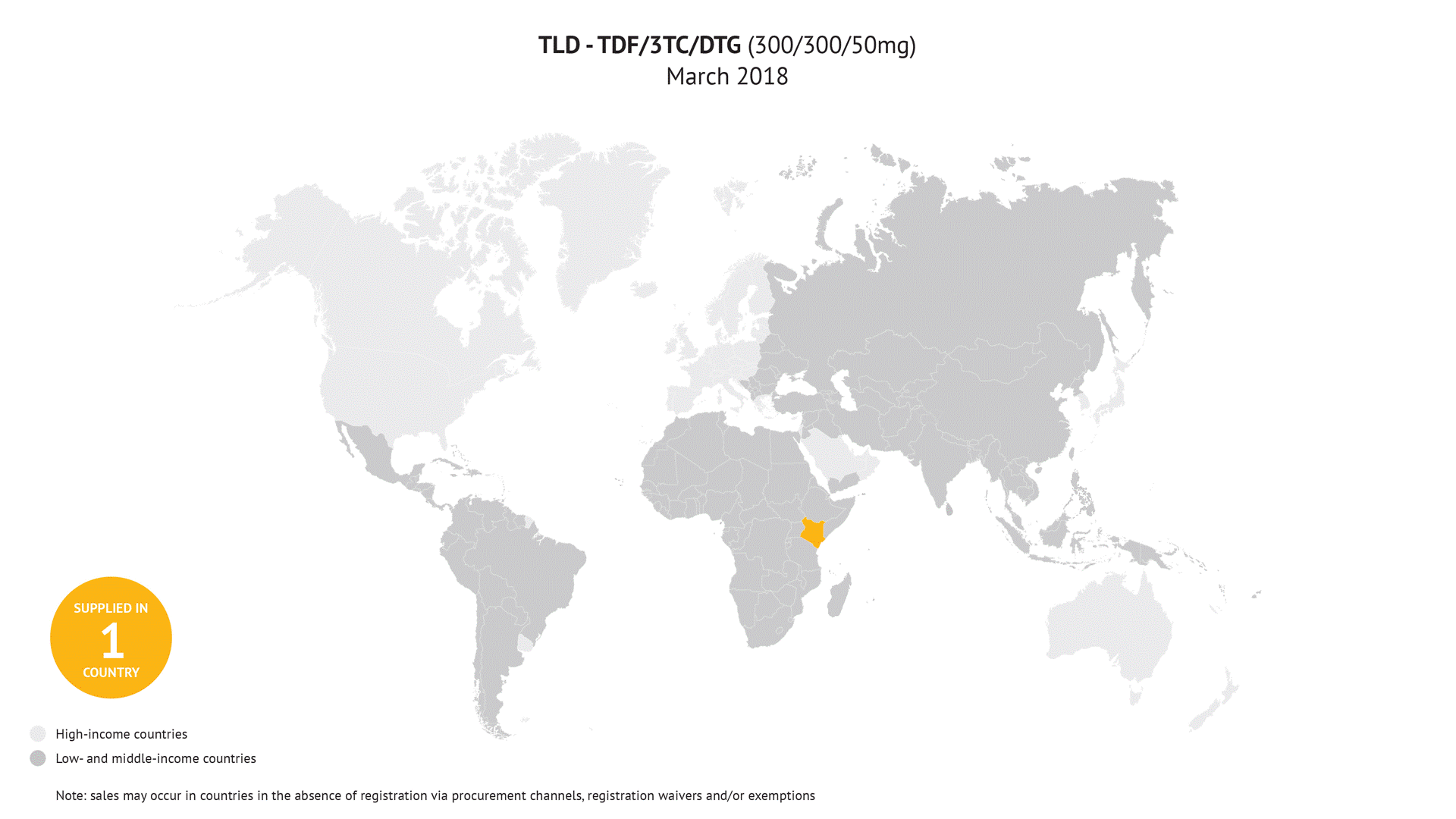 Charles Gore, Executive Director of MPP, says: "Today almost 20 million people take TLD daily. This treatment has been a game changer for those living with HIV as it's a very potent and well-tolerated combination that contributes to suppressing the virus and reducing transmission. Our partnership with ViiV Healthcare shows that our public health-oriented licensing mechanism works, that affordable access to the best new treatments is possible for people across LMICs. On this World AIDS Day, MPP with ViiV Healthcare and our other global health partners really are turning the tide on inequity in access."
Deborah Waterhouse, CEO of ViiV Healthcare, says: "Achieving this significant milestone reinforces how partnerships must play a powerful role in ending the HIV epidemic. We are very proud of our long-standing collaboration with MPP and how our work together is enabling access to our medicines for people living with HIV, regardless of their income, location, status, age, or gender. We are excited by this progress and remain as determined as ever to work alongside MPP and the global HIV community to deliver on our mission to leave no person living with HIV behind."
Dr Philippe Duneton, Executive Director of Unitaid, said: "When Unitaid founded the Medicines Patent Pool, we believed it could be the key to creating generic markets, thereby enabling access to affordable and adapted formulations that could transform the lives of millions of people living with HIV around the world. We are so proud to see this mechanism far exceeding expectations. This is an excellent example of how the pharmaceutical industry can, through pro-active access policies, deliver significant global health impact."
Nombeko Mpongo, Community Liaison Administrator, Desmond Tutu HIV Centre, South Africa, said: "South Africa is one of the countries hardest hit by HIV with around 7.5 million people living with HIV in 2021. When I was diagnosed with HIV in 1997, TLD did not exist. I had to take multiple pills a day with very strong side effects. Access to treatment was a dream for every person living with HIV. Twenty-five years on, I can happily say that being able to take TLD did change my day-to-day life from the first day I accessed it in August 2020. The treatment is only a daily pill with no side effects, it is accessible and available throughout South Africa. I am thrilled to know that, now, people living with HIV in over 100 low- and middle-income countries have accessed this gamechanger product."
Mercy Annapoorani, Director, Paneer HIV AIDS Positive Women Network, India, said: "Having access to high-quality low-cost essential medicines is fundamental for people living in low- and middle-income countries, such as India. TLD is a great example of how, in just a few years, and thanks to agreements between the originator company and MPP, this brilliant innovative treatment was developed by our generic companies and delivered to those in need in the world. I applaud the fact that people living with HIV in more than 100 LMICs can now access this treatment."
Maka Gogia, Programs Director, Georgian Harm Reduction Network, said: "Georgia was part of the bulk of countries receiving the first shipments of generic TLD towards the end of 2019. That is what prompted our government to transition all people living with HIV to TLD as first line treatment. This has had huge repercussions in Georgia. People in my country can now afford this best-in-class treatment that is easy to take, and very well tolerated. This shows that innovation can be accessible to everyone and I'm very glad we've reached the 100 country-mark for this product."
Aditya Wardhana, Executive Director, Indonesia AIDS Coalition, said : "Indonesia received its first supplies of TLD in 2020 in the midst of the COVID-19 pandemic. We had been wanting to access this product for months and two years on, we are glad to report that the treatment hold its promises: no side effects, better adherence, light pill burden. People living with HIV deserve access to innovation no matter where they live and, today we can celebrate this great milestone of 100 countries being supplied with TLD, including Indonesia."
Willy Morales, Willy Morales, Regional Director of Indigenous Peoples for the HIV response, Latin American and Caribbean Coalition of Indigenous Peoples, Chile said: "The switch to TLD was very beneficial for me as an indigenous person living with HIV: it is easier to maintain my medication, medical check-ups, and exams since I live in an isolated rural area far from medical centres.
The press release is also available in French and Spanish (translations by MPP).
###
About the Medicines Patent Pool
The Medicines Patent Pool (MPP) is a United Nations-backed public health organisation working to increase access to, and facilitate the development of, life-saving medicines for low- and middle-income countries. Through its innovative business model, MPP partners with civil society, governments, international organisations, industry, patient groups, and other stakeholders, to prioritise and license needed medicines and pool intellectual property to encourage generic manufacture and the development of new formulations. To date, MPP has signed agreements with 18 patent holders for 13 HIV antiretrovirals, one HIV technology platform, three hepatitis C direct-acting antivirals, a tuberculosis treatment, a cancer treatment, four long-acting technologies, three oral antiviral treatments for COVID-19 and 12 COVID-19 technologies. MPP was founded by Unitaid, which continues to be MPP's main funder. MPP's work on access to essential medicines is also funded by the Swiss Agency for Development and Cooperation (SDC). MPP's activities in COVID-19 are undertaken with the financial support of the Japanese Government, the French Ministry for Europe and Foreign Affairs, the German Agency for International Cooperation and SDC. More information at https://medicinespatentpool.org/ and follow us on Twitter, LinkedIn and YouTube.
MPP Media Contact
[1] Data as of September 2022 for packs of 30s