Register to the WHA 75 side event on the mRNA Technology Transfer Hub Programme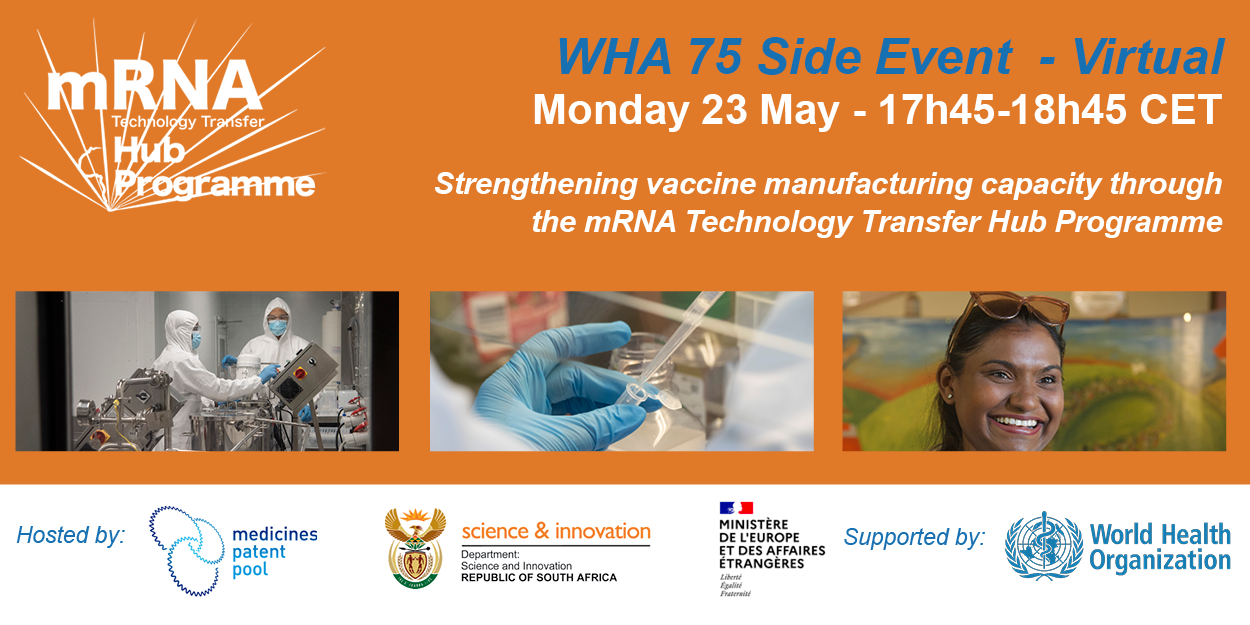 As we have seen with COVID-19, without more distributed manufacturing capacity across the world, low- and middle- income countries (LMICs) will always remain at the back of the line in a pandemic. Not only does inequity in access to vaccines and therapeutics prolong and intensify the impact of pandemics for LMICs, but it also hinders global efforts to bring a pandemic under control.
The WHO mRNA Technology Transfer Hub Programme was established in response to the flagrant global inequities in access to COVID-19 vaccines. It is a global initiative that aims to improve health and health security by establishing sustainable mRNA manufacturing capacity in and for low- and middle-income countries. Currently, the Hub is focusing on mRNA vaccines against COVID-19, but it is also designed to encourage the development of other mRNA products, vaccines and treatments, for future outbreaks and for routine use.
The two-part panel discussion will explore why and how the mRNA Technology Transfer Hub Programme is a game changer for access to health products and self-reliance in low- and middle-income countries.
The event will be moderated by internationally acclaimed Al Jazeera journalist Folly Bah Thibault. Two ministerial panel discussions will be opportunities to hear from Ministers on pandemic preparedness (Panel one), and local capacity (Panel two).
Register to our zoom event by following this link