MPP at #AORTIC2023
2 November 2023
The Medicines Patent Pool took part in the 14th AORTIC International Conference on Cancer in Africa in Dakar from 2 to 6 November 2023. The conference brought together multidisciplinary specialists from the global cancer community to reduce the impact of cancer in Africa.
MPP participated in two sessions:
SUNDAY 5 NOVEMBER, 09:00 – 10:00
Concurrent session 4, salle 201/202
Access to medicines, how can we solve this enigma?
Facilitators and opening remarks:
Panelists:
K Asante (South Africa), D Ejoh (Nigeria) | Treatment disparities across and within countries – Why do we need to speak about access to medicines?
V Vanderpuye (Ghana) | The clinician perspective: why is innovation so relevant in the oncology field? Innovations in diagnosis, treatment, and care can improve outcomes and quality of life for patients
G Segafredo (Switzerland) | Voluntary license as a mechanism to improve availability and affordability of cancer medicines (even if patented)
G Nakigudde (Uganda) | A patient's perspective on how good universal access can curb financial toxicity: a case study from Uganda
S Meyer (South Africa) | Country experience: South Africa (Trastuzumab)
Q&A
K Asante (South Africa) | Closing remarks
SUNDAY 5 NOVEMBER, 12:40 – 13:40
MPP-HOSTED SESSION
Concurrent Session 2, Salle Ovale
Can we achieve faster and more sustainable access to innovative cancer medicines? Lessons learned from access to innovative HIV medicines.
Introduction and moderation:
Chair: Miriam Mutebi (Kenya)
Panelists and respective topic:
Public health oriented Voluntary Licensing – what is it and what it achieved in the HIV space. – Esteban Burrone, Medicines Patent Pool (Switzerland)
How can international health partners work together to ensure prompt access to innovative cancer medicines? – Dan Milner, Access To Oncology Medicines (ATOM) Coalition (USA)
How to support countries in selecting cancer medicines to procure? And what else could be done to facilitate the procurement and uptake of innovative medicines at the country level? – Vivienne Mulema, Clinton Health Access Initiative (CHAI) (Uganda)
What can be done at country level to ensure prompt access to innovative cancer medicines? – Susan Citonje Msadabwe-Chikuni (Zambia)
What can patient advocates do at country level to accelerate equitable access? – Gertrude Nakigudde (Uganda)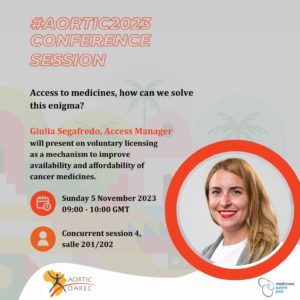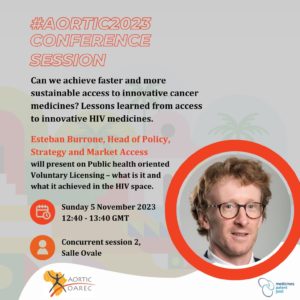 WE HAD A BOOTH #7 IN THE EXHIBITION AREA