MPP at #AIDS2022
MPP is excited to be participating in the 24th International AIDS Conference in Montreal and virtually!
Please see below MPP's in-person participation in some key sessions. You can also come visit our booth and take our quiz to receive prizes.
Friday 29 July, 07:45-08:45 EDT, Room 517c/Channel 5
MPP Policy and Advocacy Manager Sébastien Morin participating in roundtable on "PrEP for 2030 — what will it take to scale?" during satellite session on "PrEP-ing for 2030: Why optimization and scale-up of the PrEP service and product mix is critical to addressing unmet PrEP need and supporting effective use towards 2030 HIV prevention goals" – More information
Friday 29 July, 16:30-18:00 EDT, Room 518/Channel 10 – Satellite session co-hosted by MPP
MPP Executive Director Charles Gore co-chairing MPP/IAS satellite session on "Accessing long-acting HIV prevention and treatment innovations: Landscape, service delivery, and pathways to affordability" – More information
Friday 29 July, 18:15-19:45 EDT, Room 517a/Channel 3
Charles Gore facilitating a panel discussion in the session "HIV and Viral Hepatitis: integrating programmes and financing to accelerate achievement of twin goals to eliminate HIV and viral hepatitis by 2030" – More information
Saturday 30 July, 14:15-15:15 EDT, Room 511/Channel 7
MPP Head of Policy and Advocacy Esteban Burrone presenting on "Strategies to enhance equitable health product roll out in low- and middle-income countries" during symposium session on "Equitable roll out of health products: What will it take?" – More information
Saturday 30 July, 15:00-16:00 EDT – AfroCAB stand, Global Village
Sébastien participating in community dialogue on "MPP ViiV healthcare agreement what next?"
Sunday 31 July, 9.30-10.30 EDT – UNAIDS meeting room 519b
Charles Gore participating in discussion on the mRNA technology transfer hub programme on sustainability and country engagement
mRNA tech transfer hub programme and country engagement
The mRNA technology transfer hub and spoke model aimed at empowering low- and middle-income countries (LMICs) through sharing knowledge, building capacity, and creating a network of collaboration is well on track to deliver in the Covid-19 space. It is now indisputable that to face future pandemics and ensure vaccine equity, LMICs need to be part of the solution. Sustainability is key, other vaccines e.g. HIV or TB, will be essential along with strong global and country support.
The session will provide a comprehensive view of the mRNA technology hub programme and initiate discussion on building engagement with countries towards ensuring integration and uptake of vaccines in their countries and regions.
Speakers
· Matt Kavanagh, Deputy Executive Director a.i. UNAIDS
· Dr Soumya Swaminathan, Chief Scientist WHO
· Prof Petro Terblanche, CEO Afrigen
· Charles Gore, Executive Director, Medicines Patent Pool
Followed by a moderated discussion on building country engagement.
Monday 1 August 13:00-14:00 EDT, Room 220d/e / Channel 1
Charles Gore participating in panel discussion during Prime session on "Health equity for all." – More information
Tuesday 2 August, 10:30-11:30 EDT, Room 516/Channel 6
Sébastien Morin presenting on "Quantifying the health and economic impact of voluntary licensing of HIV medicines in low- and middle-income countries: Putting numbers on additional uptake, deaths averted, and money saved by MPP licences" during oral abstract session on "Achieving sustainability in the HIV response: Thinking differently!" – More information
---
MEET MPP at our booth #1007 in the Exhibition Area. 
---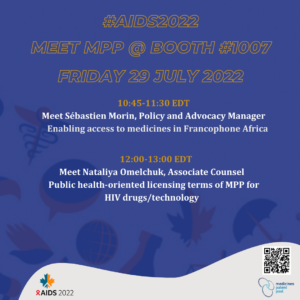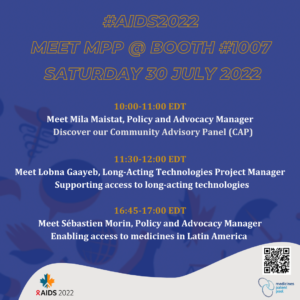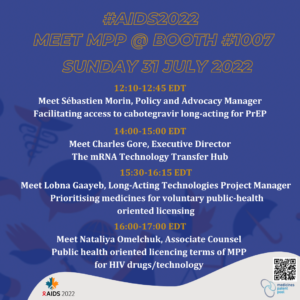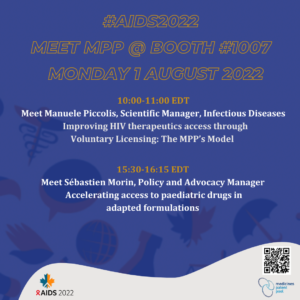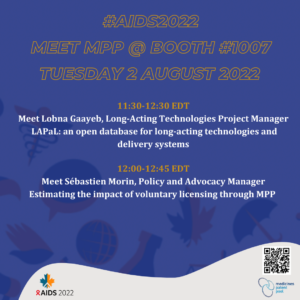 ---
---
Visit our booth #1007 in the Exhibition Area. Take our quiz and win a prize!
---